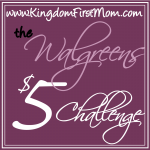 Here are my $5 Walgreens Scenerios for the week – as always I start the transactions with NO Register Rewards but if you are not new and already have Register Rewards you can really walk out of the store paying nothing but tax out of pocket! There is also a GREAT way to MAKE MONEY and get FREE TIDE below!
Transaction #1
Buy 2 General Mills Cereals for $2 each
Buy 1 Gallon Milk ($2.49 a Gallon in Southern California)
Use:
(1) $1/2 General Mills Cereals printable coupon or printable coupon
(1) .50/1 Real California Milk Printable Coupon
Pay $5 Out of Pocket and get back a Register Reward for $2
Transaction #2
Buy 1 Scrubbing Bubbles Shower Cleaner Kit $13.99
Buy 2 Scrubbing Bubbles Refills
Use:
**Free Refill wyb Starter kit in the same purchase sale – will deduct automatically
(1) $7 Printable Coupon for Scrubbing Bubbles Starter Kit
(1) Buy 1 Get 1 FREE Refill coupon
-$2 Register Reward from transaction #1
Pay $4.99 Out of Pocket and submit for $5 SC Johnson Rebate wyb 3 items to make this FREE AFTER REBATE!!
This is NOT a $5 Scenario but a scenario to get FREE TIDE and make a little money buying items our family will use so I wanted to share it with you.
Buy 2 Olay Quench Body Lotion 15% off $9.99 = $15.99
Buy 2 Olay In Shower Lotion 3/$10 = $6.67
Buy 2 Pantene Shampoo 25.4oz 5.99 =11.98
= $34.64 Before Coupons
Use:
(2) Buy Olay Body Wash, Get a Lotion Free, 11/29 PG (-$15.99)
(2) $1/1 Olay Body Wash or Soap, 12/27 PG
(1) $3/2 Pantene Products 12/27 PG
Pay $13.65 out of pocket and Get a Coupon for a Free Bottle of Tide Laundry Detergent
Then submit the rebate for $15.99 on 2 Quench Body Lotions
Final Price= $2.34 Moneymaker after Rebate AND a Free Bottle of Tide!
See the full Walgreens ad match up here.